Nakia Gibson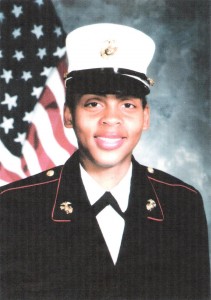 Nakia served nearly ten years in the Corps from 1995 to 2004. She rose thru the  enlisted ranks to E5 and then to officer,  2ndLT. She has been Air Support Control Officer to Platoon Commander. While in Iraq, from Feb to April 2003, she served with the Direct Air Support Center – Airborne, aboard a KC-130 aircraft.
Their duties was to ensure timely air support, medical evacuation and resupply of ground forces. She completed 37 combat missions, some under enemy fire from surface to air missiles and anti-aircraft artillery. She was also, the officer in Charge of a small island airfield in Okinawa, Japan. And acted as the Commanding General's political ambassador on the island. She is the recipient  many medals, including Air Medal (with Strike Flight Numeral 3).
Joyce Winings Collum
Joyce is from Assumption, IL and a graduate of Illinois State University, Normal, Il. She was a teacher at Cherry Grove elementary school near Bethany. Joyce served in the US Marine Corps during WWII from 1944 to 1945. She attended boot camp at Camp Lejeune, NC. From there she went to Propeller Repair School in Norman, OK. Her duty station was Marine Corps Air Station (MCAS) El Toro, Ca, until the end of her service. Joyce married a navy guy, ( Fred Collum, who served 30 years in the Navy.)
Charity Thacker
Charity enlisted in the United States Marine Corps, attended boot camp November 2008 and is still serving. She went to Camp Lejeune for Marine Combat Training, on to Pensacola for training as an airframe mechanic. She took her Naval Aviation Technical Training in San Diego, where she was promoted to Lance Corporal. She joined with the Light Attack Helicopter Squadron 169 , and was deployed overseas in Operation Enduring Freedom, from Nov 2010 to June 2011 . During this time she was promoted to Corporal.
After returning home, she volunteered for the Female Engagement Team 12-1.  These are the women that interact with the female population of Afghanistan and Iraq and go on patrol with their male counterparts. FET members go thru a strict selection process and intensive six month pre-deployment training. The training involved weapons training of the M-4 rifle,M-9 pistol, and crew service weapons: Combat Life Saving training, licensing in specific military vehicles, language and culture training. Cpl Thacker was made FET leader with two other CPL's, and deployed with FET 12-1 from March 2012 to August 2012.
FET 12-1 worked in direct support of 2nd Battalion, 11th Marines and 2nd Battalion10th Marines: also in direct support of 2nd Battalion, 5th Marines, and 1st Battalion, 7th Marines. After her return home she was back with HMLA-169, and began training for deployment. She was selected by her squadron as Non-Commissioned Officer of the Quarter and promoted to Sergeant
Christine Cunningham
Tina enlisted in the United States Marine Corps in 1988 and went to boot camp at Parris Island.
She was stationed at Camp Futenma, Okinawa, Japan with MACS-4 and MACF-18, 1st MAW.